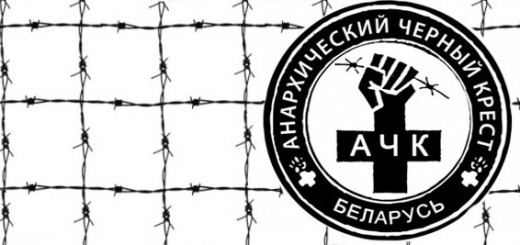 Infoveranstaltung mit Anarchist Black Cross Belarus (Weißrussland) am Sonntag 06.03. ab 16.00 Uhr im Nordpol (Münsterstr. 99 44145 Dortmund)
Ein ehemaliger anarchistischer Gefangener aus Belarus Mikalai Dziadok wird von seinen Erfahrungen im Gefängnis berichten und wie man den Gefängnisaufenthalt übersteht. Totale Hilflosigkeit, psychologischer Druck, bescheuerte Strafgefangenen-Gesetze, ewig andauernde Haftzeit – das ist woraus belarussische Gefängnisse gemacht sind.
A former anarchist prisoner from Belarus Mikalai Dziadok will share his prison experience and give some advice on how to survive the jail. Total helplessness, psychological pressure, stupid convicts' laws, ever-lasting prison terms – this is what Belarusian prison made of.
Eine Veranstaltung der Anarchistischen Gruppe Dortmund