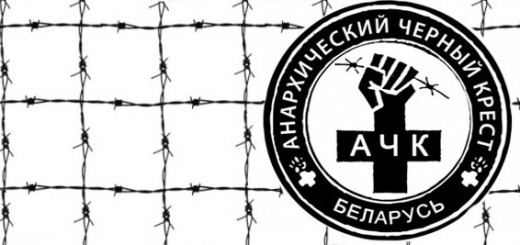 Am 06.03. hatten wir unsere Gefährt*innen aus Belarus (Weißrussland) vom Anarchist Black Cross zu Gast für einen Vortrag. Der Vortrag ist auf Englisch und circa 1.30 Stunden lang:
Ein ehemaliger anarchistischer Gefangener aus Belarus Mikalai Dziadok
hat von seinen Erfahrungen im Gefängnis berichtet und wie man den
Gefängnisaufenthalt übersteht. Totale Hilflosigkeit, psychologischer
Druck, bescheuerte Strafgefangenen-Gesetze, ewig andauernde Haftzeit –
das ist woraus belarussische Gefängnisse gemacht sind.
A former anarchist prisoner from Belarus Mikalai Dziadok has share
his prison experience and gave some advice on how to survive the jail.
Total helplessness, psychological pressure, stupid convicts' laws,
ever-lasting prison terms – this is what Belarusian prison made of.
Eine Veranstaltung der Anarchistischen Gruppe Dortmund
Link zum Original: AGDo